Mission Week
We had a visit from a mission team who came in to work with the children. We had a whole school theme of 'We are walking in the footsteps of Jesus'. Every class spent time with them and really enjoyed this experience. Watch our videos of us African dancing to 'wave your flag'.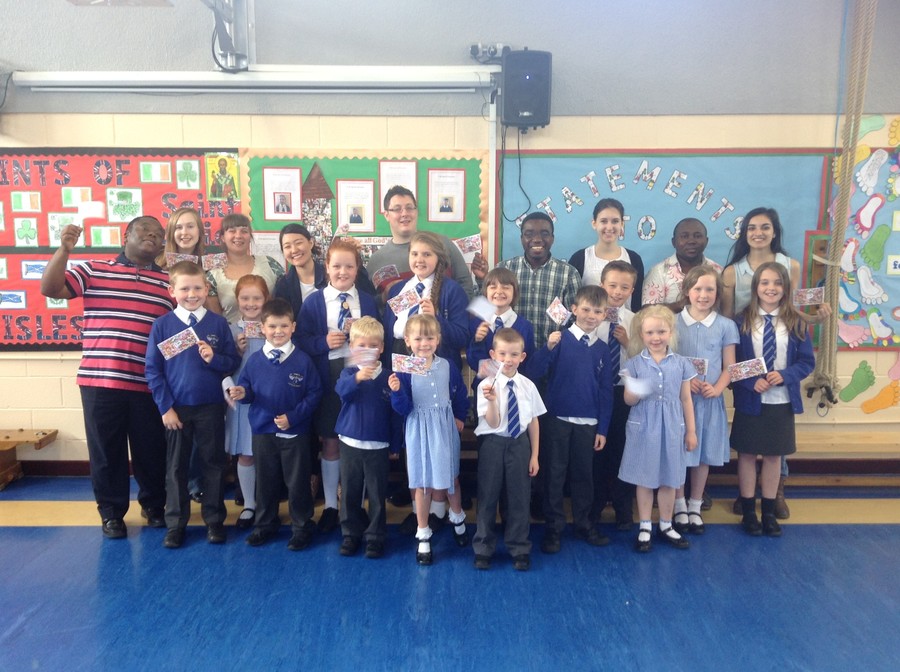 To see photographs and video from Year 5 click here.
Reception's thoughts on Mission Week
"Best week ever... we love dancing to the flag song... David was the best and very good at dancing... we like learning about Jesus... can they come back again Mrs Ruane?!
Favourite part
"All of it"
Year 2's thoughts on Mission Week:
"It made us feel happy... we showed respect for Jesus... we felt closer to Jesus... it was lots of fun... made us confident about our faith"
Our favourite part
"The dramas in Assemblies... meeting all the mission people from different countries... singing new songs and dancing in Assembly"
Year 5's comments
"This week has been fabulous... its was about making Religion really fun... it made us closer to God... I liked the team building exercises... I loved the wave your flag song and dance... simple... I want to do it again next year... I loved meet all the meet - they were so nice... David was the best... we learnt about being a Catholic in a cool and fun way"
Year 1 comments
"It was a fun week and we loved it. We loved David's singing and dancing."